Amihan the First is a minor character from the Philippine fantasy television series Encantadia  produced by GMA Network. She is the sister of Mine-a. Amihan, the second daughter of Mine-a, is named after her.
Profile
Amihan, the younger sister of Mine-a and first Amihan of Lireo, was the Sentinel of the Eastern borders of Encantadia. She is one of the champions of the Etherian war. She believes in the philosophies of Cassiopea and chose the path of servitude, to serve as one of the defenders of the free folks of their realm. She was later made by Cassiopea as Guardian and Defender of her Island, home of the Mother Gem.
Personality
Amihan is described by Mine-a as a kindhearted person.
Appearance and Outfits
She is wearing blue warrior armor like Amihan's as hers are royal blue and sky blue.
Story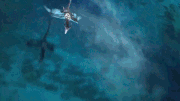 Four gems Arc
Debut Appearance
Amihan lives on Cassiopea's Island serving as it's guardian by roaming around the place to see if there is an intruder. One day while riding on her dragon she spotted unusual figures on the island. After the short fight, Adhara appeared before her and they battled. Adhara was too powerful for her to handle resulting her capture.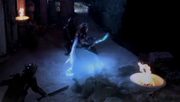 Adhara's exclusive access to Lireo
Adhara used Amihan's appearance/body to easily enter Lireo. No longer residing at the kingdom of Lireo, the Lireans did not suspect that something is off with her and easily let her in up to the throne room regarding her as a very important visitor of the queen. It is still a mystery if Adhara controlled her mind or entered her body that time. Amihan asked everyone to give her and her sister some time alone. When they were left alone, that is when Adhara revealed herself when she hugged Mine-a by using her own voice first, after Mine-a broke free from their embrace it was Adhara whom she's already facing.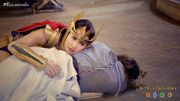 Death
When Adhara got stabbed by Mine-a she suddenly turned into Amihan. It was unknown how Adhara made the switch. She forgave Mine-a when she accidentally stabbed her knowing she was only a victim of Adhara's scheme. Amihan then falls down to the ground, lifeless.
Legacy
Mine-a wanted her daughter to harbor the qualities Amihan had so she named her after her.
Trivia
Max Collins had auditioned for the role of any 4 Sang'gres for this requel but she didn't make it. Instead, she has been given a special role which only appeared in the pilot episode.
Speculations
Gallery
Community content is available under
CC-BY-SA
unless otherwise noted.