Anthony is a supporting character from the Philippine fantasy television series Encantadia, produced by GMA Network. He was portrayed by Starstruck 6's Survivor Migo Adecer as a part of his prize upon winning the competition, Anthony is now portrayed by Andy Smith.
Profile
Anthony is the teenage friend of Lira. He loves Mira so much.
Personality
Anthony is a very kind and understanding guy who is willing to help anyone in need. He is also possesses the characteristic of an accepting person. Even though he was presented with the idea that Mira could possibly be inhuman he would accept her for who she really is. He speaks fluently and frequently in English making people mistake him for a foreigner.
Appearance and Outfits
Anthony unintentionally maintains an elegant appearance even though he is dressed in ordinary clothes that's why it isn't hard to guess that he came from a wealthy falmily. He is handsome which makes ladies attracted to him.
Being a mortal, Anthony wears casual clothes for human.
Story
Debut Appearance
Anthony bumped into Lira at the middle of the street at the Divisoria. Lira saved him using her powers but was placed into danger instead, this time, Anthony is the one who saved her.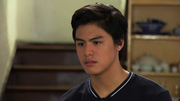 Etheria Arc
Mira wanted to know what happened to Anthony. Lira suggested they find out themselves by going to him. They came to his home and rang the doorbell. Anthony came out and greeted them. When they asked if a man named Anthony lives there he told them he is him and he recognizes them.
Trivia
Anthony understands conversational Tagalog. He doesn't understand if it is "too advanced". When he speaks, it is either in Tagalog or English (but he translates it when speaking to Lira) or a both languages.

Example: "Let's try to speak in basic terms.. Ano pangalan mo?"

He came from Australia. He currently stays in the Philippines.
Adult Anthony was portrayed by Andy Smith who was the husband of Diana Zubiri who also portrayed Danaya in the Encantadia (2005-2006 Series) and LilaSari in the Encantadia (2016).
Gallery
Outfits Gallery
Community content is available under
CC-BY-SA
unless otherwise noted.