Arkrey is a fictional character from the Philippine telefantasya Etheria, which is a prequel/sequel to the highly rated Encantadia. Arkrey is portrayed by Filipino actor Justin Cuyugan. Arkrey is also the original wielder of a sword which bears his name, before it went to Raquim after the fall of Etheria and later Amihan.
Character Background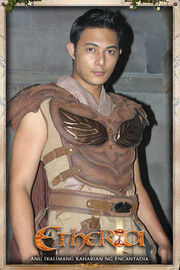 Arkrey is known as Asval's right hand soldier. He is known as a normal Sapiryan but hidden from everyone is that he's actually the spy for Etheria and the brother of Avria. He is one of the four guardians of the Golden Hourglass. Due to Sang'gre's changes, Arkrey, alongside Avria and the Herans battle the Sang'gres but unsuccessfully retrieved the Golden Hourglass in which it was later destroyed by the Sang'gres. He was stabbed to death by King Meno and Raquim after showing his true colors by killing the Sapiryan soldiers.
However in the third book, Arkrey was revived by Ether in the present time. Posing as the masked man, Arkrey murders Cassiopea and then Evades in order to weaken the forces of the Sang'gres. After the deaths of Juvila and Andora, Arkrey shows up quickly before Pirena can escape and he reunites with his sister Avria. He sides with the revived Hagorn and the army of Hathors. After Avria's death, he vows to avenge his sister's death. After the war with Ybrahim's army, Arkrey was surrounded by Ybrahim and his troops, telling to the Sapiryan King that an Etherian will kill Ybrahim soon before he is about to stab him. However he was killed by Apek.
Community content is available under
CC-BY-SA
unless otherwise noted.