Arvak is a minor antagonist from the Philippine fantasy series Encantadia produced by GMA Network.
Profile
Arvak is the king of Hathoria during the start of the series. He was entrusted by Cassiopea to be the keeper of the Brilyante ng Apoy as share of Hathoria of the Mother Gem and in hope that they will use it for good.
Personality
Arvak had the ambition to make Hathoria the most powerful kingdom in Encantadia thus corrupting his views on equality. He is willing to wage a war against the kingdoms to be able to get the brilyantes they keep.
Appearance and Outfits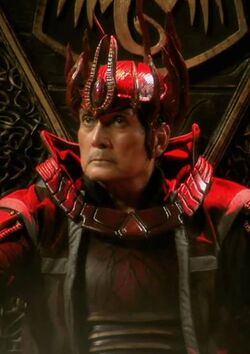 Story
Debut Appearance
Arvak debuted as the recipient of the Brilyante ng Apoy thus becoming its first keeper.
Taking the Brilyante ng Tubig in Adamya
Arvak ignited a war against the other kingdoms of Encantadia when he came to Adamya to take away the Brilyante ng Tubig from Imaw.
Cassiopea's curse
Cassiopea came to Hathoria and demanded Arvak to explain why he wasn't contented with just one gem. Arvak used the Brilyante ng Apoy against Cassiopea to show that he isn't threatened by her presence. Cassiopea indeed was no match for him so instead, she gives them a curse: On the moment of his death, a Sang'gre will be born and that Sang'gre will be the cause of Hathoria's destruction.
The war of Sapiro and Hathoria
The curse of Cassiopea bothered Arvak so badly so he decided to take the other two gems to make sure it wouldn't happen. He declares a war against Sapiro first. He and Armeo fought each other and he manages to mortally wound Armeo. He tells him to bring out his brilyante to heal his wounds but Armeo refuses.
Death
Raquim arrives in time and duels with Arvak. Arvak decides to use the two brilyantes he possesses to kill Raquim but he was shot by an arrow at the back. Raquim takes away the brilyantes he possessed. Before he died, Arvak remembered Cassiopea's prophecy.
Hagorn's quest
Arvak is mentioned by the golem guardian. He's suffering as atonement for his sins. Hagorn wasn't permitted to see him as he is one of the guardian's favorite.