Awoo is a fictional character from the Filipino fantasy-themed television saga Encantadia produced by GMA Network. Awoo is an Animatronic puppet.
Character background
Awoo is an Adamyan paklong. He looks like a camel with a lot more fur, has a head of a dog but is the size of an elephant. Unlike other Pashneas in Encantadia, Awoo is friendly and likes being groomed, but if anyone approaches him the wrong way, the pashnea will attack. He is usually found in the forest of Adamya and Lireo. During Pirena's reign as the queen of Lireo, Awoo hid with the surviving Adamyans in the Mandirigma's camp.
When the Brilyante ng Lupa was lost, Awoo was one of the Pashneas that started dying, when it was found Awoo was restored to full health. Awoo has the ability to sense if there are Enemies around. His number one fear is Hathors.
Gallery
Trivia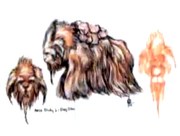 Early concept art shows that Awoo had a bulkier body with more fur around him.
No one plays the role of Awoo as he is an animatronic puppet. There are 2 puppeteers that animate Awoo: one for the head, and one for the body and legs.
Community content is available under
CC-BY-SA
unless otherwise noted.