Enuo is a supporting character in the Philippine fantasy series Encantadia produced by GMA Network.
Profile
Enuo is a Sapiryan whom Emre gave the privilege to be the father of Sang'gre Alena and Sang'gre Danaya because he saved the savior of Encantadia.
Personality
Story
Enuo first appeared when he prevented Gurna from killing the kidnapped baby Amihan by shooting Gurna with an arrow causing her to flee. Enuo then appeared in a flashback when Mine-a told Danaya the process of a collective dream. Mine-a stated that Enuo came to visit her for the collective dream that conceived Alena and later Danaya. Enuo again appeared in another flashback when Imaw told Amihan about the lamp she just saw. Imaw tells her about Enuo, the man who saved her and brought her back to Mine-a and Raquim. It was also revealed that because fathers have no rights to their children who are Sang'gres, he chose to distance himself from Alena and Danaya. He left the lamp to Danaya who was still a baby and a fan to Alena who is at her early childhood stage. Since then he was no longer seen in Encantadia.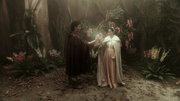 Enuo finally made an actual appearance again in the World of Mortals. He appears to be a rich man. He was watching the news report about the earthquake which unknown to him, was caused by one of his daughters. When Danaya got ambushed by the Hathors Enuo stole a truck to save Danaya from Hagorn and nursed her to health however none of the medicines in the World of Mortals were effective so he made her drink a blue potion. Later when Danaya regained consciousness he asked who she is. Danaya tells him her name and that she is the youngest daughter of Mine-a, it is then he recognizes her as one of his daughter however, he does not tell her that he is her father because he will wait for the right time.
Community content is available under
CC-BY-SA
unless otherwise noted.