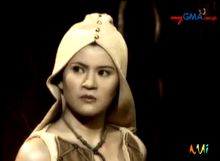 Gurna is a fictional character in Encantadia, a telefantasya being aired in the Philippines. Filipina actress Girlie Sevilla plays Gurna. Young Gurna also appeared in Etheria, the prequel/sequel to Encantadia, played by Filipina actress Aiza Marquez.
Profile
Gurna is the daughter of a Hathor that fell in love with a diwata. She was still a child when her father left them. But no matter what her father did, Gurna's mother continued loving him. She was also half Etherian and dama of Queen Avria Of Etheria and Andal .
Story
Gurna is a dama working for Hera Mine-a in Etheria. She and Mine-a are extremely close that she shared her ethnicity as a Hathor with her. Gurna would often make excuses whenever Mine-a would go out. Gurna sympathizes with Hagorn fully understanding his situation that he loves Mine-a but Mine-a doesn't reciprocate his feelings. This was shown when Mine-a was captured by Avria. Gurna asked Hagorn for help. Gurna eventually had a grudge against the Diwata, Adamyan and Sapiryan races who hurt her when they recognized her as one of those who served in Etheria. She also gained a grudge against Mine-a because she allied with them. Gurna then became the dama of Pirena.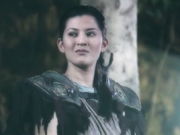 Unknown to many, including Mine-a, she secretly works as a spy for the Hathors. She poisoned Pirena's mind by encouraging her to breed contempt against her sisters and her mother so that Pirena could take revenge for her. She was loyal to both Pirena and the Hathors and did all orders sent to her. Cursed by Cassiopea to be unsuccessful forever, she was finally killed by Pirena by throwing her and be embedded in stone, after finally being discovered by the former to be the cause of dissent between Pirena and her mother and sisters.
Gallery
Community content is available under
CC-BY-SA
unless otherwise noted.