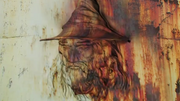 The Lagusan ng Pagkaligaw (The Straying Portal) is another portal to travel from Encantadia / the Human World and vice-versa.
2016 series
Enuo said to Danaya that he found the portal by accident. It is located near Sapiro, guarded by the bandits.
The Bandits use the portal to kidnap humans. Those humans who have been kidnapped by the bandits are called The Lost Humans. They kidnap humans when no one is looking / no one is around. They put the human being inside a large bag, and they go through the portal.
Once they arrived at Encantadia, they feed the humans rice and from that day on, they are slaves to the bandits.
The Guardian only lets anyone in if they've brought any human/s with them to please the Bandits that feed him.
Notable humans who have been abducted by the bandits
Trivia
There has been no other way than sacrificing people (specifically humans) to go through the portal.
The portal is actually located near Paopao's house.