Lakan
is a supporting character of the Philippine fantasy series
Encantadia
produced by GMA Network.
Profile
Lakan in one of the two Mulawins left in Encantadia the other being Pagaspas.
Personality
To be added
Appearance and Outfits
In his debut Avisala Lakan, for the upper part he wore a black shirt and a gray hoodie jacket, for the lower part a maong pants and sneakers. He wore a blue cap with a sewn 0 on it.
Story
Pre Encantadia storyline
Lakan was the leader of Pugad Lawin, the tribe of Mulawins in Encantadia living in summits/mountaintops.
Lakan happily lived with his wife and family there, but his wife died after giving birth which is the reason why he left Encantadia of the extreme sorrow he felt. He wanted to forget the pain of losing someone precious to him so he resided in the World of the Mortals for a long time.
Encantadia storyline
Lakan appeared and saved Danaya who was about to be shot by Berto. Danaya asks for his identity but he tells her it isn't necessary. Danaya gets distracted with Berto and his companions. Lakan uses this opportunity to escape, however, not without leaving a feather as a trace that a Mulawin has been there. A little later in the series, Lakan was eating his lunch at an eatery when he heard the melody coming from the Mulawin flute. Since a Mulawin cannot refuse the calling of his/her summoner, Lakan goes to a secluded area and brings out his Ugat-pak stabbing it in his back transforming to his Mulawin form. He flies to Danaya's location and introduces himself.
Trivia
In Philippine culture, Lakan originally referred to a rank in the pre-Hispanic Filipino nobility in the island of Luzon, which means "paramount ruler." It has been suggested that this rank is equivalent to that of Rajah, and that different ethnic groups either used one term or the other, or used the two words interchangeably.

Sir Noel also suggested the name Lakan as it is, according to him, a strong and positive description of stature.

Lakan's counterpart character in the original series is Bagwis.

According to Sir Noel in his Behance project for Lakan, the Mulawin Tribe that made a cameo appearance in the 2005 version is led by Bagwis, while the Mulawin tribe that appeared in the 2016 version is led by Lakan.
Gallery
Videos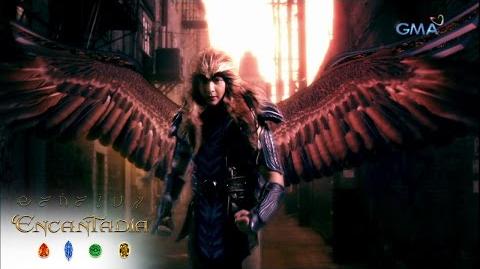 Community content is available under
CC-BY-SA
unless otherwise noted.