Ornia is a supporting character from the Philippine telefantasya Etheria, the prequel/sequel to the highly-rated Encantadia series. She is portrayed by Glydel Mercado in Etheria.
Character background
Ornia was a Diwata slave to the Etherians who fell in love with Heran Memen, the husband of Queen Avria of Etheria making him Etheria's King Consort. She is the last surviving relative of the most powerful Diwata ever born, Esmeralda. Though a member of what is considered the weakest race in Encantadia she is not completely powerless. She possesses an extremely powerful voice which she can use to render an opponent deaf or unconscious. She used this ability to help the Sang'gre through their first encounter with the Etherians. She can also use Ivictus (teleportation) and manipulate or project energy.
She ran off with Memen to escape the Queen's ordered execution. While on the run they were helped by Evades who told them to go hide in Adjantao, where she gave birth to her daughter Cassiopea, who eventually found the Diwata kingdom of Lireo.
Ornia was killed in her sleep alongside Memen by the Etherian agent Animus.
Trivia
In the first book, Ornia (tagged as Cassiopea's mother) also appeared in a flashback, in which Ybrahim forced Bandok to narrate about the truth of the Kabilan. Ornia's outfit in the flashback from the first book is much different from the second book and she was portrayed by a different actress before Glydel Mercado.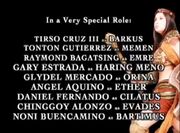 In the end credits of the pilot episode of Etheria, Ornia's name was misspelled as Orina, this mistake hasn't been corrected until the end credits of episode 10.
Community content is available under
CC-BY-SA
unless otherwise noted.