Pagaspas (Nicknamed as Gas, Also known as Bogart) is a fictional character produced by GMA Network. He appears in every installment of the Mulawin Franchise such as Mulawin (2004), Mulawin: The Movie (2005), and Mulawin vs Ravena (2017). He was portrayed by Actor Miguel Tanfelix.
Profile
Pagaspas is a pureblooded Mulawin who once took on the challenge of Langay, one of the members of the Tres Aves along with Lawiswis. They defeated her in a race earning a chance for the group to join their cause. He and Lawiswis had always been together ever since they were children which formed the bond between the two until they eventually fell in love with each other.
Personality
To be added
Appearance and Outfits
Story
Pagaspas and the others were taken by Ybarro to Encantadia (specifically Lireo) in order to heal Alwina. He is present during Aguiluz and Alwina's wedding (which was also held in Lireo) wherein he was a flower bearer along with Lawiswis. Later on she and Lawiswis played along with Banak, Nakba, and Awoo in the garden of Lireo. While the war was going on, Pagaspas and Lawiswis were shown to have remained at Lireo and spent time with Reyna Amihan in her room.
Mulawin vs Ravena
When Lira saw Pagaspas she said that Pagaspas looks familiar but she can't put her finger on it. Later on, He and Lawiswis were curiously staring at Lira who was continuously taking selfies. Lira was shocked to know that they weren't aware of the existence of smartphones to which Pagaspas replied that they hadn't been outside ever since Avila had been closed. Lira kept on trying to remember his identity so he asked Pagaspas if he has ever been to Encantadia. Pagaspas mentions that he and Lawiswis did and they even met and talked to Reyna
Amihan
when they were young referring to the event in
Mulawin: The Movie
.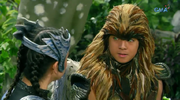 Lira then remembers him as Pagaspas the one who saved her life which confused Pagaspas thankfully Tandang Lumbas interrupted the conversation and gave clarification to that telling them there is another Pagaspas who is only a Tabon that lived in Encantadia.
Trivia
It's pretty disturbing to see that not neither Pagaspas nor Lawiswis who both took the challenge of Langay, one of the members of the Tres Aves in Mulawin: The Movie even bothered to correct what Anya said about them being powerless or only defeated the Buwarka.
Gallery