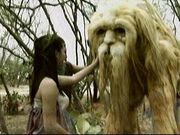 Paklong is a fictional species from the Filipino fantasy-themed television saga Encantadia produced by GMA Network.
Biology
Paklongs were mammal-like creatures who had the face of a dog, the stature of a camel and the size of an elephant. They had large amounts of fur around their body and had large eyes, long beard and ears. Their nose were human like and made noises similar to a camel.
The most notable Paklong is Awoo.
Community content is available under
CC-BY-SA
unless otherwise noted.