Vish'ka is a Sapiryan warrior who proclaimed himself the new King of Sapiro after the Sapiro Royal Family was supposedly extinct, although nobody knew at the time that Ybrahim was actually alive and raised by the forest bandits. He is portrayed by Conan Stevens, best known as the first actor who portrayed Gregor Clegane in the american fantasy television series Game of Thrones.
Vish'ka had a big part in the Kalasag Armor's forging during a very young era of the Sapiryan Kingdom. He is very well-known as a legendary forger. He might be Amarro's mentor in forgery along with King Bartimus of Hathoria.
Name Etymology
In Episode 58 it was revealed that his name which means fist in Enchan was given to him for defeating the soldiers of Sapiro and Hathoria using his fists only.
Personality
In the time after Adhara's defeat by Mine-a's hands, Vish'ka may have mellowed from the ways of warfare and had contented himself in the simple life of blacksmithing in the midst of the Barbaros of Askano; in short, he may not be the same person whom Adhara remembers.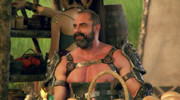 Story
Vish'ka, the higante-turned Askano, had a big part in the Kalasag's forging during a very young era of the Sapiro Kingdom. It is also revealed that Vish'ka is an ally of the evil Diwata Adhara and may have had a hand in her attempt to steal the Inang Brilyante, providing her with the powerful staff that became her trademark weapon.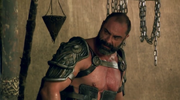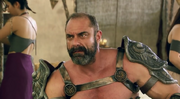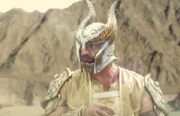 Trivia
Gallery
Community content is available under
CC-BY-SA
unless otherwise noted.